Bespoke Books and Artist Editions
We work with writers, artists, designers, creative individuals developing unique volumes and limited Artist Editions for private collections, exhibition and sale.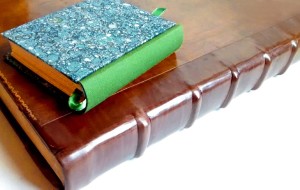 Within a wide range of structures and materials, possibilities include reclaimed and altered books, renewals, reprints and sculptures in book form.  We can include special pages, mixed materials, interleaving, reference materials, maps, special pages for writing or drawing in pastels, charcoal, inks, coloured pencils, transfers, tracings, collage for a whole range of special projects and creative ideas.
Recent Work
Some Odd pages is very pleased to create a suite of bespoke oversized painting sketchbooks for HRH Rostislav Romanoff III, specially bound with his family logo in gold foil inset.
Bespoke painting books for artist HRH Rostislav Romanoff III containing 50 leaves of specialised Sanders Waterford HP heavyweight paper, lie-flat Coptic binding, finished in fine Moroccan leather with reinforced magnetic closure and bone clasp.  Dimensions 38cm T x 28cm W x 6cm D
Some Odd Pages is proud to have created an Artist Edition for the executives of Eames London Estates Ltd.  Edition of 4, signed & numbered.
What the client said:  "My thanks for all the trouble that you have taken to produce four superb books."
Bespoke family archive box for documents and valuable items.  Sage green silk with hand marbled lining over two levels.  Inset compartments, tray lift ribbons, external and internal reinforcements, bordered title labeling.  Dimensions 47cm T x 30cm W x 15cm D
Find out more about our Bespoke Archival Boxes or learn to make your own.
See more of our Notable Projects, book repairs and rebindings.
Order Your Own Artist Edition Binding

We specialise in creating hand bindings and creative short-run Artist Editions.  Send your digital document as .PDF or ship your prepared pages.  CONTACT the studio for printing guidelines.  We print using our pigment printer with DuraBright Ultra Pigment inks onto Fabriano Accademia Fine Art paper.
This artist duo sent their own hand printed pages for Coptic binding.
Selected Commissions
Each project is unique, final structure and materials arrive through a collaborative process, we work to your vision.  CONTACT Some Odd Pages with your idea and requirements.
Graphic Designer's Portfolio
Kingston University Graphic Design student Clare Stevenson recently asked Some Odd Pages to create a unique Piano Hinge binding for her end of term portfolio.
© Clare Stevenson, cover design, 2014.
© Meg Green, binding design & construction 2014.
'Rome'
My client has fallen in love with The Eternal City.  She's a fine artist who loves to paint and draw in the open, in situ, taking it all in as she goes. We've created a special travel journal for her to work with over several trips to Rome.  Click on the book to see how it was made.
© Meg Green, book design & construction, 2013.
Graduate Exhibition Invitation 2012

London Fine Art students asked me to help them produce an interesting invitation to their Graduate Exhibition in July 2012.  Working with 18 graduating artists we used this fold-out format to feature their individual works as well as all the detailed information for the show.  Printed on both sides and reversible, short run of 1000.
© Francesca Corra, cover image, 2012
© Meg Green, design & construction, 2013.

'Faim de Tout'
Canadian fine art photographer Guy Glorieux depicts the seemingly endless fragments of La Vie Quotidien.  Unique volume album bound in linen with title window slide case, 22 cotton rag photo pages, transparent interleaving text over image. Artist's private collection.
© Guy Glorieux, concept, text & images, 2002.
© Meg Green, book design & construction, 2002
Adapted Books
The client required several volumes of 19th c. novels to be refurbished into working fold-out sketchbooks for drawing, writing and inclusion of found objects while travelling.  The objective was to create a kind of portable studio within which the artist could expand and explore ideas which would arise through the sense of place and exploration.
Broken spines and degraded leather quality were strengthened and reinforced with integrated leather straps.  Working in inverse method of fitting pages within pre-existing dimensions, the original book block was replaced with a construction of pages and foldouts for drawing, writing and collage.
'Arts et Metiers Graphiques'
Archive boxes for pristine collection of this historic journal pubished in Paris from 1927 – 1939.
Complete and detailed information about this important publication can be found in English at  'Arts et Metiers Graphiques' complete online resource.  Ahead of its time and essential reading for anyone with an interest in Graphic Design, 'Arts et Metiers Graphiques' is surprisingly under appreciated among scholars and artists.  This publication ambitiously set forth and advanced the founding principles of modern Graphic Design in a way unmatched by other publications of its time or since.
Scottish Gaelic Family Bible



A complete reconstruction of this ancient family bible containing extensive family geneology with original drawings, documentation, photos and unique family ephemera dating from 1749.
Signature bound onto double raised cords in leather with steel reinforement covers and hand sewn headbands.  A very large and heavy volume, aprox. 38 x 24 x 11 cms.  2001
Photo book and archival case
This book was commissioned by a photograpic artist wanting a clean and elegant single volume for hs black and white images.  The fold out pages can be removed from the wrap around cover.  Bound in black Japanese silk with matching oyster case, both lined in white silk paper.  2002.