Book Repairs and Rebinding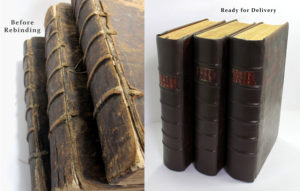 We provide book repairs, rebinding and conversions from soft to hard covers.  Projects range from cherished childhood books, poetry, unique cookbooks, crossword dictionaries, favourite novels, out of print books, paperback to hard cover, slide cases, wrap-around portfolios, and more.  Every book is unique.
The extent of repair and rebinding needed depends on the style, material and condition of your book.  Much can be done to restore a favourite volume to a strong and reliable condition.  Our objective is to return the book as closely as possible to its original form to secure the structure with the least invasive methods possible.  Cloth or leather finishing available.  Bespoke slip cases and archival boxes made to order.  CONTACT the studio for a specific quote for your rebinding or repair.
With our beautiful, newly refurbished 1911 Mackay blocking press we now provide metallic foil titling on leather, cloth and paper.  Find out more about Gold and Silver Titling.
Scroll down to see examples of recent repairs and rebindings and to find out more about Digital Repair services for damaged dust jackets and other artworks.
Recent Work
We are very pleased to have provided repairs and rebindings to a range of public organisations and private individuals. A selection of recent works include:
Find out more about Notable Projects and Artist Editions
Leather spine & corners, silver titling
Restoration of this historical volume chronicling 19th c. Arctic exploration. This raised corded leather binding features blue moroccan spine and corners, silver titling and hand marbled coverings in cool polar blues.
Family Bibles
Family heritage is often preserved within the pages of historical Bibles handed down through generations. Over time these leather bindings can break down, pages become frayed or loose. New bindings can feature raised cords, leather spines, original antique titling and matching bespoke drop spine archival boxes to protect and preserve this special family volume.
Rebinding a Victorian volume
Cleaning, repairing and rebinding starts with completely removing all the old glue, dirt and debris. Pages and sections are then cleaned and repaired individually before being resewn. Covers are added with internal reinforcement and linings. Finally the leather spine and hand marbled covers are applied along with printed cover titling.
Paperback conversion to hard cover
Converting a paperback to hard cover helps preserve and protect these special volumes. Pages are lifted, cleaned and reglued with internal reinforcement and mounted into new hard covers. Hand marbled endpapers, page marker ribbons, extra pages and fine art printed titling can be added to create a special presentation copy.
Round back cloth bindings
Damaged older books benefit from rebinding into new hard covers. Cloth finishing offers a durable and economical alternative to leather finishing. Old glue, dirt and debris is removed and the pages resewn. The back is then rounded and mounted into new hard covers. Original covers are cleaned and remounted to preserve the look and style.
Children's favourites reconstructed
Even when old covers seem tattered and worn, much can be done to save beloved family favourites. After the pages are cleaned and rebound, original covers are lifted and a supportive backing material is added before remounting onto the new covers. Alternatively, digital reprinting can reproduce original artwork. See below for further details of Digial Image Repair.
Other repairs and bindings
A selection of recent repairs and rebindings. Every book is unique.
CONTACT the studio for a quote for your own special volume.
Digital Image Repair and Repro Dust Jackets
Commerial dust jackets were typically printed onto non-archival paper which become yellow and brittle over time. We scan the original, digitally clean and reprint onto fine art quality archival paper to create new covers and dust jackets to bring your historic first edition back to life. Our digital repairs and repro dust jackets are printed in high resolution onto fine art quality paper using light-fast archival inks for years of enjoyment.