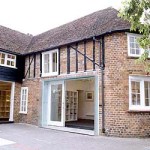 Some Odd Pages is very excited to be represeted by the wonderful New Ashgate Gallery in Farnham, Surrey this spring. Our range of hand bound leather journals, Artist's Books and historical bindings will be available at the gallery from May 2014 through late summer.
Established in the 1950's in Farnham town centre, The New Ashgate Gallery supports local and international artists.  Housed in the beautiful 17th century Waggon Yard curates a series of annual exhibitions in partnerhsip with local and national arts agencies and organisations such as the Surrey Artists Open Studios.
Visit the New Ashgate Gallery, Farnham in the heart of lovely leafy S urrey this spring.  What a good reason for jolly in the countryside.