Creative Bindings
Get ideas for creative bindings and unique volumes at these Book Arts exhibitions:
'LondEnfold' 18 Nov – 13 December at London's Guildhall Library
'Bound' online exhibition celebrating UNESCO World Book Day 2014
'FLUX Archives' online inspiration for creatives everywhere.
'Bookmark' ongoing programme hosted by the excellent people at the University of the West of England Centre for Fine Print Research.
Here are some of the creative bindings you can learn in workshops with Some Odd Pages:
Simple Case Binding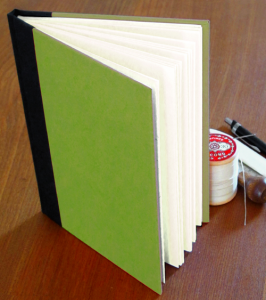 A strong and reliable binding with an internal structure mounted into a square-backed hard spine case. Pages are sewn together in signatures, glued and reinforced, before adding endpapers and mounting into the external case covers, an excellent adhesive binding for small edition work. This example is made from hand dyed pages and features title window and weighted page marker.
Back to Back / Dos à Dos Binding

An extension of simple Case Binding, Back-to-Back binding offers a multi-section expanding structure housing many individual books within revolving covers.
Japanese Binding
An external binding which gathers together many individual sheets, Japanese binding is an ancient method which does not depend on sewing through the fold. Can be done in soft or hard cover with many beautiful variations in the stitching pattern. Often used for a soft cover manuscript in combination with a hard cover wrap-around portfolio.
Image credit: © 2012 Kathleen Skiverton, www.kskiverton.com

Coptic Binding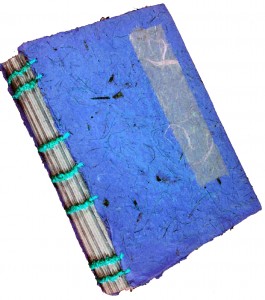 Coptic binding dates back thousands of years and is one of the oldest binding methods still in use today. Each signature is sewn through the fold and attached to the preceding signature allowing for an indefinite number of self-supporting signatures. This is an elegant non-adhesive binding, there is no glue holding the structure in place, can be done with or without a cover to produce a fully flexible book which lies completely flat when open. This example in rough hand-dyed hemp and jute covers and cord.
Single Sheet Coptic Binding
This is an adaptation of traditional Coptic Binding which requires a fold through which to sew each signature. With Single Sheet Coptic each page is stitched to the preceding page with whip stitch and twist to create an strong non-adhesive binding without any folded page. Virtually any collection of flat objects can be bound this way offering a very versatile binding. A non-adhesive binding, it is a very good choice when making books on site while traveling or in make-shift studio spaces.
Image credit: © 2000 Maria Kasper, artwork. Meg Green, binding.

Longstitch
Longstitch is a non-adhesive binding very adaptable to a variety of formats. The binding depends on an accurate template by which each signature is sewn through the hard spine along it's own set of holes allowing the book to lie flat when opened. A good binding for non-uniform pages, fold-outs and inclusions as the space between signatures can be adapted to accept additional material once bound. This particular example belongs to the series 'Penwith Ergobooks' and is closely bound with beaded cords.
Exposed Double Cord Raised Binding
This non-adhesive adaptation based on traditional raised cord binding retains the structural integrity while revealing the intricacy of the internal structure. This example is bound in contrasting hemp cords and secured into leather bound cover boards.
External Strap Binding
The adaptation of traditional Long Stitch depends on straps mounted across a flexible curved spine. The straps are mounted into hard covers to provide external support to the signatures sewn from inside the book. The binding is spacious allowing materials to be added comfortably to the book after binding such as in albums or portfolios.
Raised Paper Cord Binding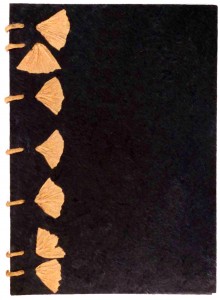 Paper provides an incredibly strong fibre when twisted into cord. This adaptation of binding onto single cords relies on paper cords mounted into hard covers. The paper ends are splayed open and secured on the cover to complete the structural design.
Egyptian Single Leaf Cord Binding
This ancient creative binding was used for sheets which cannot fold, such as some thick papyrus sheets or heavier thick materials. The binding cord runs through all the pages, around both covers and secures the book together with an angled clasp at the foot of the front cover.
Recessed Cord Binding
This is a strong and very compact binding. It provides very solid internal structure with many signatures bound onto cords which sit within a grove cut across the internal spine. Cords are mounted into covers before external cover material and spine are finished. It's relatively fast to sew as the needle slips easily behind the cords within each signature.
Accordion Book
An accordion book makes it possible for a large continuous page to fold down into a very compact format. There is an easy flow throughout the book without the interruption of turning each page. Getting all the folds aligned is the trick to a neat accordion book. Once the accordion structure is assembled, it's easy to mount in the images, text or other artwork in this flexible and popular of all creative bindings.
Concertina
This creative binding combines the flexible fold-out of an accordion spine to which many individual signatures or folios are attached. Pages fold, overlap, and layer themselves in moving juxtaposition. This example was commissioned with box case and lid.
Album with Case Binding
An album is a spacious binding with enough room through the spine to allow additional material to be added to the pages after binding. Both screw-post and sewn bindings can be constructed to accommodate large images and additional pages after the book is complete. This example commissioned with slide case featuring title and cover image window.
Miniature Coptic Binding
Coptic binding is a very flexible and strong structure. It can adapted to the smallest, most delicate materials as well as large and heavy constructions. This miniature combines over a hundred individual rice paper folios within a 4cm dimension.
Foldout Sketchbooks
Creative bindings come in all shapes. A fold-out sketchbook accommodates both a large surface as well as a compact format. The challange is to work in both the full page and the individual panel pages.
Archive Boxes
Archive boxes, oyster cases, slip cases and portfolios can be built to house and protect single volumes and loose leaf collections.