Selected Artist's Books by Meg Green
Drawing upon tradition, adaptation, collaboration and pure invention, book arts reside at the shifting crossover where ideas and structures connect between text, image and meaning.
'Wednesdays'
A millenium project tracing the solar year from summer solstice to summer solstice through the daily minutae of personal ritual.  The solstice fell on a Wednesday that year.  Each morning  I recorded my first words int he original source book.  Every Wednesday I made a self-portrait in the photo booth at the train station near my studio.  The 'Wednesdays' book gained community participation as many people came to hear about this project.  Many clients, students and friends asked me to save my first words for them or say something they would like to be in the book.  After the book was complete I transposed the text with one week on each page under that week's photo.  This book was issued in three limited editions and is now sold out.
'1066'
The 'Tapisserie de Bayeux' is a unique and intriguing artefact in world history as well as being an absolutely stunning work of art.  As a document of historical information, it is both packed with information and shrouded in mystery.  Here is the story of the Norman Conquest of Britain in 1066 led by William the Conquerer presented in one continuous page as the original embroidery was originally intended for viewing.  This limited edition of 10 is bound in red silk, includes protective slide window case, original Latin text with English and French translations and introductory essay.  Currently sold out and in private collection, 2003.
'Cross Rhodes'
Click on the image to see more about 'Cross Rhodes' made in situ during an exploration of the history and archaeology of the the island in 2012.
'Penwith Ergobooks'
Click on the book cover to see more about 'Penwith Ergobooks', a suite of 12 interlocking books about the ancient landscape of West Penwith.  With hand-painted and drawn pages featuring text and image, twelve defining locations within Penwith's open archaeological landscape are bound together by the year long tide.  Unique series, adapted longstitch, 2011.
'Roma Proceno'
'Roma Proceno' is a fold-out book made during a trip to explore the antiquities of Rome and the surrounding region in 2012.
'Chiusi A Posto'
'Chiusi A Posto' tells a pictorial narrative of anticipation and discovery of the ancient landscape along the Tuscan/Umbrian border region of Italy.  In such a famous and much interpreted landscape, experiencing the authentic saturation of place, colour and light takes time. 2011.
'Story Line'
'Story Line' is a visual narrative about a line who makes a break for freedom, more or less. 2009.
'Dartmoor Winter'
  Fold-out sketchbook on the particular quality of Dartmoor's winter landscape. 2008.
'Thames'
    Pictorial survey of the Thames at Battersea in winter, 2002.
'Cyclades'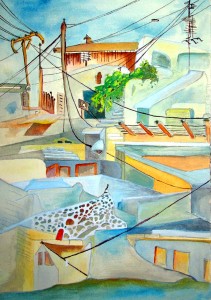 Fold-out abstraction of Cyclades islands over three years, 2011.
'Letters'
This miniature is only 4 centimeters tall and is bound with over a hundred individual folios.  The pages are cyanotype which gives them the saturated blue colour.  The text is hand drawn in resist, blind white upon white, before the cyanotype is made.  The book contains the fragments of letters between two people across the distance of time and ocean.
'Parade of Fools'
  Whimsical postcard collection of the best of Shakespeare's fools, 2001.
Image credit:  © 2000 Maria Kasper, artwork.  Meg Green, binding.
'La Famille Inconnue'
  This collection of found photo proofs documents the summer afternoon of an unknown family circa 1940, 2000.
'Cathedrale'
  Detailed fly-through of Christ Church Cathedral on Montreal's busy rue Ste Catherine, 2002.
'Ocean'
  Gradual accumulation of text through successive waves discusses language, 1999.
'Urrek the Elder'
  Short fiction recounting the adventures of King Urrek and his neighour Rodrigo of Gastoblad, 2000.